"Tug@YurHart Whiskey" our homegrown Miniature Dachshund boy @ 9 1/2 pds.
COLOR: Chocolate/Tan Dappled Smoothcoat
Sire: (Speckles)
Dam: (Dolly)
DNA PROFILE#: V800680


"Tug@YurHart Snoopy" , our Mini Dachsie stud @ 11 pds.
COLOR: Black& Tan Brindle Piebald Smoothcoat
Sire: Red Brindle Smoothcoat
Dam: Black/Tan Brindle Smoothcoat
DNA Profile#: Y835159
"Tug@YurHart Mr. Bean" , our homegrown Mini Dachsie stud weighing just under 11 pds.
COLOR: Red smoothcoat
SIRE: Red brindle long hair (Ch-sired Just in to Hunting "Hunter")
DAM: Red long hair (Lady)
DNA PROFILE#: V786912
Miniature Dachshund Studs
"Speckles -n- Spots" That's what I've got! Our Miniature Dachshund stud at 8 1/2#, a very nicely built boy with a bit shorter back
COLOR: Fawn (Isabella) & Tan Dapple smoothcoat
DNA PROFILE #:V735592
SIRE: Blue & Tan Dapple Longhair
Dam: Fawn (Isabella) & Tan Pie smoothcoat
Miniature Dachshund | Miniature Dachshund Breeder | Mini Dachsie | Mini Dachsie Breeder | Mini Dachshund | Mini Dachshund Breeder | Miniature Dachshund Puppies | Mini Dachsie Puppies | Mini Dachshund Puppies | Smooth | Smoothcoat | Long | Longhair | Wire | Wirehair | MS | ms | ML | ml | MW | mw | Black | Black/Tan | Red | Chocolate | Chocolate/Tan | Red Brindle | Brindle | Cream Brindle | English Cream | Isabella | Isabella/Tan | Wildboar | Dapple | Isabella/Tan Dapple | Black/Tan Dapple | Piebald | Red/White Pie | Pied | Chocolate/Tan Pie | Chocolate/Cream Pie | Isabella/Tan Pie | Blue/Tan Pied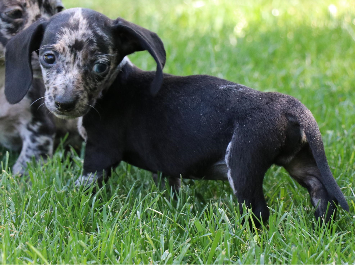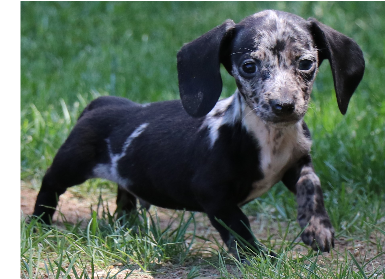 "Tug@YurHart Tuxedo" is 5th Generation from our Miniature Dachshund breedings.
COLOR: Black/Silver Dapple with left blue eye
SIRE: Snoopy
DAM: JoJo
Tug@YurHart Rottie our homegrown boy. Our Miniature Dachshund stud at 11 pds.
COLOR: Black/tan smoothcoat
SIRE: Snoopy
DAM: Lady in Red
Tug@YurHart Whatchamacallit our newest outcross Miniature Dachshund stud.
COLOR: Chocolate/Tan Dapple smoothcoat
SIRE: Black/tan Brindle Piebald
DAM: Chocolate/Cream Dapple